A friend of mine posted a
book review
about Start Here by Alex and Brett Harris.
It made me want to read the book.
So I read some of it and then asked Maddie to read it.
She read some of it and said since it wasn't an AR book, she didn't have time.
BOO HISS!
But since she's only in 7th grade and is required to do AR, I didn't fight it.
I'll get her to read Do Hard Things next year.
I'm not ready for her to challenge me yet with what her "hard thing" is going to be.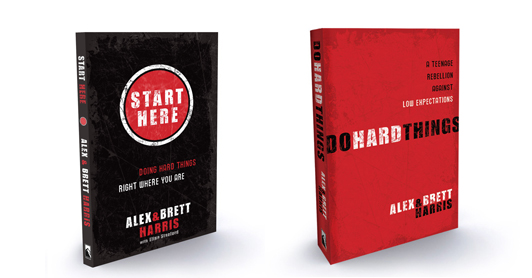 But for all of you parents out there of teenagers. I really, really think that you should read Do Hard Things. Then, after you have processed it, give it to your son or daughter and have him/her read it.
It is an incredible account of twin brothers who challenged the status quo and decided that they didn't have to wait until they were grown to make a difference. I mean really, these guys at 16 worked as law clerks for a couple of months for a supreme court justice of a state.. (Alabama?). (sorry, I've already turned the book back into the library, so I can't double check!)
Maybe I read this book differently than some would out there becasuse I work with teenagers everyday, but I read this book and was excited. I come in contact with more than 150 students each day and I know that seriously 95% of these kids are waiting for a challenge. What I liked about the book was the idea that these teenagers were telling other teenagers to STOP waiting and GO for it! But that they had to do it in a way that respected parents, teachers, the government and God.
One downside to the book... now I'm thinking about what Hard Things I should be doing. But I don't have time.. I'm training for a marathon! oh.. can that be my hard thing? :)